Listing your Home with Jane
Thank You Jane, You're Amazing
Everything went so perfectly! It's like you waved a magic wand and all the problems went away, You listened, took action, and we just followed along. We coildn't have done it without you. Mom is in a much better place.
Jane's Listing Process
Initial Visit -Getting to Know Each Other
We want to get you the best value for your home. But more importantly, we want to get to know you. Why are you selling? job transfer? retiring?  empty nester, growing family? Our goal is to give you the best in personalized service.
Walk the property. Find strengths and potential issues.
Comparative value analysis to set pricing
To do list for needed repairs and decluttering
Vendor and contractor contacts as needed
Review and sign listing agreement
Pre-listing Tasks -My Team Gets Started
Listing Cordinator tours the home and measures each home
Detailed notes on interior and exterior features for marketing
Professional home stager stages your home to enhance your homes features
Professional photographer photographs your home. Pictures to be used in marketing,
Jane Clark "Coming Soon" sign in your front yard to attract potential buyers and build excitment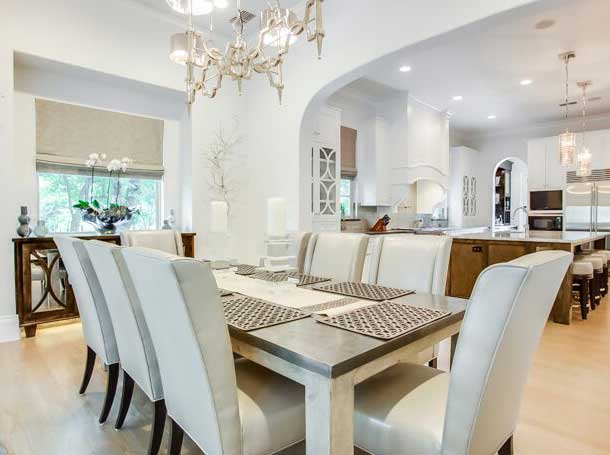 Marketing - Your Home's First impression
Jane's marketing plan kicks into high gear. Custom marketing materials geared around each individual property, are prepared and it is time to bring buyers to the front door.
Custom flyers are prepared for marketing campaign
New listing information is uploaded to all real estate search engines and major home websites
SEO search optimization
Networking with top selling agents in the area
Social Media sharing via Facebook, Instagram and Youtube
Your home is featured in local print magazines
Custom marketing plan with high quality mail outs and newsletter
Your Listing Goes Active - Its Showtime
Your listing is active, bring on the prospective buyers. Jane and her team are there every step of the way.  Jane's extensive network with area realtors strengthens your home's visibility to potential serious buyers.
A secure realtor lockbox is placed on your front door
Home is registered with showing agency for realtors to schedule showings
Showings begin, you will receive texts, emails or phone calls for approval
Keep home neat, tidy and have lights on for showings
Open houses scheduled as requested
You recieve an Offer
The offers have come in. From negotiating on your behalf, to having a team of vendors ready to step in where needed, Jane and her team are ready to assist you all the way to close.
Expert advice on all aspects of the buyers offer
Verify buyer financing
Multi offer breakout that will enhance the bottom line
Execution of the final contract
Closing the Sale
The Big Day is here, We are ready to turn over the keys and move into the next chapter. Jane is still with you all the way working with the title company to assure everything moves smoothly.
Communicate with Title Company, Lender and Buyer's Realtor to manage all aspects needed to reach the closing table
Review closing disclosure with Title Company and Seller
Accompany you to Title Company to finalize the sale of your property.
We Made the Right Choice
---
My husband and I are so happy we chose Jane Clark and her team to sell our home. From the moment we met Jane we were confident we made the right choice. She returned all of our calls promptly and kept us informed through the home selling process. We received 3 offers the first day our home was on the market and it was smooth sailing all the way to closing. If you are looking for a professional team to sell your home-choose Jane Clark Realty.
Finding the Best North Texas Realtor
What comes to your mind when you hear the word "Realtor"? Do you think only of dry statistics like commission rates and closing costs, or do you see the exceptional value of the help and experience a truly Professional Realtor will offer you?
I wonder sometimes if it isn't more helpful to think of your Realtor as a co-investor in the sale of your property because a good realtor adds and provides services that enhance the value and saleability of your property. Our relationship with you is so much more than that of a mere commissioned salesperson. Frankly, I am a co-investor and business partner of every client we serve. So what is it that Makes the Best North Texas Realtor for Your Needs? It is the experience of a proven successful Realtor that turns us into one of the greatest assets you'll ever use. 
---
Exceptional Service is only the Beginning
When I started my career in Real Estate I realized that I was in the service business and the most valuable asset I could offer my clients was my time, experience, and knowledge. I set out to provide a level of service to my clients that would redefine the word exceptionally. Fortunately, I choose Keller Williams as my home brokerage. KW recognizes that there is no such thing as a cookie-cutter Real Estate Transaction. They provide exceptional training, but they also allow exceptional freedom to guide our clients as we see fit.
Jane was mentored by some of the Best North Texas Realtors in those early days. That is why The Jane Clark Realty Group rapidly evolved into a team with dedicated personnel to handle your marketing and transactional needs. We developed a specialized web presence to give your properties exposure far beyond that provided in MLS. Our Focus goes well beyond "getting" the listing. We are focused on marketing your listing at the optimum sales price. I have been called one of the top 1% of realtors in the DFW metroplex. Why because over 99% of my listings are sold within 1% of our listed value.
Awards and accolades are very important to Realtors and as you research me you'll find that I am well respected by my peers throughout the DFW market Place. I am the top producer for Keller Williams North Texas and have been voted Best North Texas Realtor and Best DFW Realtor by my clients. But did you know that in recent years I have become one of the Top Producing KW agents in Richardson as well?
And,,,, Many of my clients are returning clients who have done several transactions with us. Here is what a long-term returning client had to say about me as they downsized after a long and successful career….
"Jane Clark helped us purchase our home in McKinney in less than a day. Fifteen years later, she and her very capable staff sold our home in 48 hours in a market that was slowing!! With customer service at the top of their list, they are amazing people who strive for excellence and deliver. Thank you, Jane AND STAFF and best of luck to you all in your seemingly never-ending efforts to please your clients!."
Success Leaves Clues.. And here are some clues that You found a GREAT Realtor
Jane has a 20+ year Reputation for Results
Click the Area Tab to see some of the top homes Jane has sold in each city or subdivision
McKinney

Here are some great homes Jane sold in McKinney. Select another tab to see the other cities.

Frisco

Here are some great homes Jane sold in Frisco. Select another tab to see the other cities.

Plano

Here are some great homes Jane sold in Plano. Select another tab to see the other cities.

Allen

Here are some great homes Jane sold in Allen. Select another tab to see the other cities.

Fairview-Lucas

Here are some great homes Jane sold in Fairview. Select another tab to see the other cities.

Prosper

Here are some great homes Jane sold in Prosper. Select another tab to see the other cities.

Stonebridge Ranch

Here are some great homes Jane sold in Stonebridge Ranch. Select another tab to see the other cities.

Richardson

Here are some great homes Jane sold in McKinney. Select another tab to see the other cities.

Dallas

Here are some great homes Jane sold in Dallas. Select another tab to see the other cities.
Work with Jane
Jane offers the highest level of expertise, service, and integrity. Jane utilizes the latest technologies, market research and business strategies to exceed your expectations. More importantly, she listens and that means she finds solutions that are tailored to you.
Contact Jane
Are You Buying or Selling a Home in Collin County?
You need Jane Clark!
You need experience and expertise on your side! You need a Realtor with a 22+ year history of succesful transactions. You need the best Keller Williams McKinney has to Offer. The more you understand about Collin County Real Estate, the more you understand all the reasons why, Your listing deserves the Jane Clark touch.
:
This email address is being protected from spambots. You need JavaScript enabled to view it.
Jane Clark Realty Group LLC
Keller Williams McKinney
7200 West University Drive #300
McKinney Texas 75071